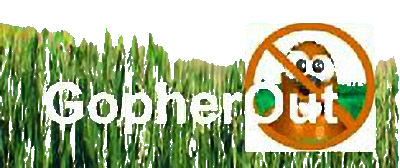 TESTIMONIALS
John Deweye, Soquel California

I live on the coast and gophers are a year round problem here. It was always a battle to grow artichokes and lettuce. I tried GopherOut on the recommendation of a local organic farmer and I was very pleased with the results. Mainly, no more gophers.

Akar Dashmer, Brookings Oregon

I had all but given up the joy of gardening because of the gophers and moles destroying everything I grew. It seemed the more removal methods I tried, the more gophers I had. GopherOut eliminates the need for any other method because the gophers are gone.

Alan Sagar, Great Oak Vineyard, Mariposa, California.

A few years back, we bought an abandoned vineyard that was plagued with gophers. After restoring the vineyard to a productive state, we tried GopherOut in our drip irrigation system for 2 months. The gophers disappeared completely and it allowed us to keep our organic certification.

Philip Brodie, Mgr. Songer Farms, Farmington, Michigan

We are an organic operation and could not use most other gopher baits and similar products. GopherOut solved our gopher problem and helped us keep our organic certification. The most important thing though was that it works!!!
Jackie Rennalt, San Marcos, Texas

After trying traps, poisons,.and lots of those gimmicks I found online, a neighbor told me about GopherOut. I was skeptical but had nothing to lose. Man, it worked! My lawns are gopher free now. I even see a whole lot fewer fire ant mounds.

Ed Philpot, Springfield, Illinois

I thought I would never be able to have a garden. Moles were taking over the entire area. Then I was told about GopherOut and gave it a try. No more moles, and lots of garden produce.

William Miller, Ames Iowa

My orchard was suffering and I found out it was infested with pocket gophers. A local nursery guy suggested I try GopherOut and it instantly solved the problem. I have'nt seen signs of them in over 6 months.

Annie Masterson, Boulder, Colorado

I am a Master Gardener working for a local University. Gophers took over our golf course 2 years ago and I could not find a cure for the problem until I ran across GopherOut. I used it over the entire course and watched as it cleared up the problem almost overnight. This is one great product.

Ken Miller, New London, North Carolina

I started using GopherOut a few years ago and it saved my garden and yard. Since then I have moved but I still use GopherOut as a deterrent and spray my entire property with it once a year. No rodents of any kind. Thank You GopherOut!
If you would like to tell us about your experiences with GopherOut please CLICK HERE
GopherOut is now a product of GreenWyre Purely Natural Products, Georgetown TX